Women

just do things

differently

than men and there's nothing like getting together and sharing a

great adventure

with a group of like-minded women
DATES: May – September 2020

PRICE: 126,000 ISK / ~930 USD

LEVEL: Moderated / Challenging

NIGHTS: Luxury glamping tents
---
---
DAY 1

– FIMMVÖRÐUHÁLS
STUNNING SCENERY INCLUDING A CLOSE VIEW OF THE MOST GRACEFUL WATERFALL IN ICELAND
Morning meet up with our guides and driver in Reykjavik.
We begin the 3 hour trip along Iceland's scenic South Coast to the startpoint of our first ride.
This single-track trail is definitely among Iceland's best. We commence with a nice climb up a mountain road where we will enjoy a fabulous view of the infamous Eyjafjallajökull Glacier. Rewarded with a fabulous downhill on a single-track which brings us back to the seashore.
We will then take the 30 minute drive back to our overnight destination.
Night: Glamping
Ride: Distance 17 km
Elevation: +/- 690 m
---
DAY 2

– HATTA & REYNISFJALL
MAGICAL TRAILS SURROUNDED BY THE ATLANTIC OCEAN
Vík í Mýrdal is a small village surrounded by the Atlantic Ocean on one side and steep mountains on the other side.
The first part of the ride begins with a trek up Mt Hatta and an incredible descent down a single track until we reach the village below. The second part involves a 300 meter climb up Mt Reynisfjall followed by an epic single track which trails aimlessly along the mountain's cliff edge.
The perfect way to end the day is to visit the village thermal pool and experience Iceland's healing energy at the same time. A healthy swim and a soak in the hot Jacuzzi leave you feeling in tune with body and soul.
Our base camp is about 15 minutes drive away from the village.
Night: Glamping
Ride: Distance 18 km
Elevation: +/- 760 m
---
DAY 3

– HENGILL
CHALLENGING RIDES THROUGH HOT SPRINGS, NATURAL WARM RIVERS AND STEAMING FUMAROLES
Our day begins with a two hour drive to the starting point of our final adventure at Hengill. A volcano which last erupted two thousand years ago is where our trek begins. We will take on it's challenging single-tracks and several hike-a-bike sections until we reach our final destination.
All good things must come to an end and our journey ends with a one hour drive back to Reykjavik. Leaving you enough time to enjoy a delicious meal at one of the cities, many gourmet restaurants.
Ride: Distance 15 km
Elevation: +/- 470 m
---
There is always possibility of alterations to the itinerary, here above, as weather or terrain conditions dictate. This is for your own good to improve the trip quality and ensure that we choose the best ride that suits each day.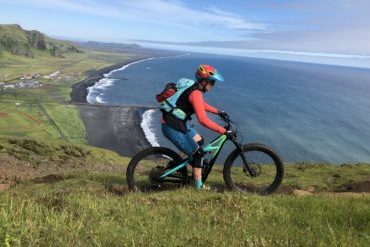 WATCH THE VIDEOS
Here you find some short, catchy videos from our tours. We can always count on the visuals, they tell the real story.
PHOTO GALLERY
There´s nothing like getting together and sharing a great adventure with a group of like-minded women.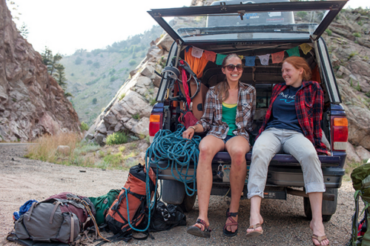 THE ARTICLE IN TETON GRAVITY
8 Reasons Why Women Need to Go to the Mountains With Other Women - Women in the Mountains.
---
PRICE: 126,000 ISK (~930 USD) per person |Currency Converter.
INCLUDED:
Expert local female leadership
All transports during the trip and assistance vehicle to carry the luggage
Accommodation in a private glamping tents for two nights
All meals and snacks from lunch on day 1 to lunch on day 3
NOT INCLUDED:
Accommodation and meals in Reykjavik before and after the trip
Your mountain bike and related equipment
Trip insurance
Your personal equipment needed to ride
Personal items like drinks and energy supplements
GROUP SIZE: Maximum 9 participants.
---
WE CAN CUSTOM-MAKE THIS TOUR FOR YOU!
For smaller and bigger groups who prefer to travel together we do quote prices with the date and time you choose. Please contact us for more information via
info@bikecompany.is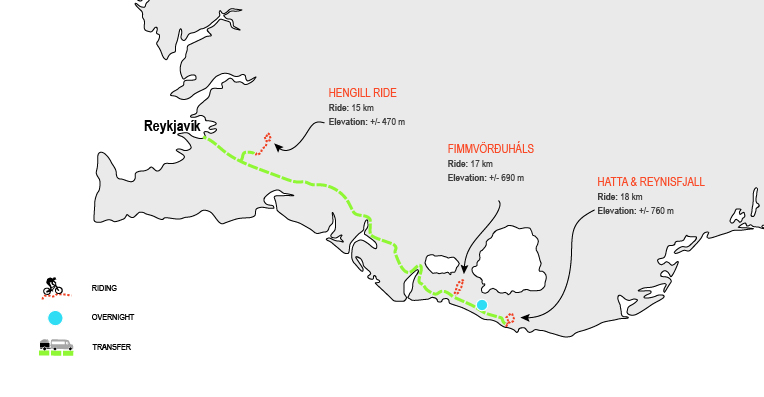 THE TOUR - MODERATED / CHALLENGING
Designed for the experienced female mountain biker in good physical shape. You don't have to be an advanced biker, and you don't have to be super fit to take part in this tour. Those who join us will have a variety of skills and levels of fitness where one will often compensate for the other. If you lack skills, don't worry, you may find you have good fitness, and vice versa.
TECHNICAL LEVEL - INTERMEDIATE / ADVANCED
You are shredding around regularly during the mountain bike season
You are comfortable with some challenging technical downhill sections
You can control your speed and breaks down steep hills and through narrow corners
You don't mind being outside biking all day long
FITNESS LEVEL - 3
You are physically strong even though you do not practice regularly
You are capable of staying 4+ hours on the saddle in windy and rainy weather
You can bike for several hours a day for at least three days in a row
You are an open minded person, ready to be pushed outside of your comfort zone
FARMHOUSE GLAMPING TENTS
A two night stay in a comfortable, private Glamping tent.
The tents consist of custom made wooden furniture, luxury bedding with memory foam mattresses and hypoallergenic duvets and pillows. Free wifi is available at the lodge.
Homepage: www.farmhouse.is
---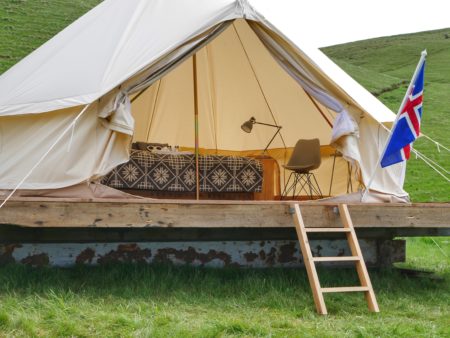 ---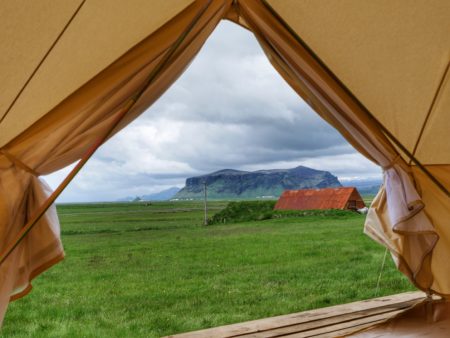 QUALITY LOCAL FOOD
In our tours the selection of the accommodation and the meals are equally important as the selection of the trails. The food is hearty and typical of the area. The strength of the Icelandic cuisine lies in its pure ingredients and imaginative use of them. A very copieus breakfast will be served at our hostel, Farmhouse Lodge. We bring along a delicious energy filled picnic in our backpack for lunch, that we can enjoy whenever needed during the rides. And we dine both evenings in carefully chosen, local restaurants or the guide will be your personal cook.
WATER - DRINKS ARE ON US! Kranavatn is a premium drink, naturally filtered through layers of lava to make it fresh and tasty for you. It is available all around Iceland, and it is totally free.
THE BOOZE... It is not always possible to stop at the liquor store in Iceland after the trip has started. We highly recommend that you stop at the tax-free store at the airport if you wish to have a wine or beer with you in the trip.
Please let us know in advance if you have any dietary concerns.
OUR RENTAL BIKES
We use Stumpjumper ST Alloy 27.5 or similar.
The perfect bike for this trip is an all-mountain full-suspension bike with disk brakes, although the hard tail bikes will work great as well. Riders can bring their own bike, but take note that the bike is included in the price of this tour.
If you choose to bring your own bike you must ensure that it is in excellent working order before we commence the trip. You will need to bring a couple of tubes, at least one set of brake pads (organic are better here than sintered as they don't overheat) and keep them in your pack along with a spare mech hanger and any other specialist tools or spares specific to your own bike.
THE CLOTHES
Based on our experience cycling clothes, gloves and shoes that are built for winter / autumn riding in the US or Europe typically work well in the Icelandic highland summers. Expect to wade rivers, and bike over a number of small creeks.
IMPORTANT
We discourage the use of cotton and strongly recommend bringing comfortable and adequate clothing, such as polypropylene and wool/synthetic blends. We also recommend that you bring a good backpack (ca. 10l) with bladder as we are out riding for the day, so along with at least 1l of water you'll need room for your packed lunch, extra layers and spares. Don't forget to bring a high factor sunblock, as the sun in Iceland is very strong.
YOUR SAFETY
Our trips take place in remote regions where limited evacuation options are available. Bear in mind, there are always risks and hazards on the trails that we ride. If you choose to participate in our trips, it is up to you to ride well within your limits, to ride conservatively and to be safe as mountain biking is a dangerous sport. Participants must keep their bikes in good working condition; they must be hydrated and rested and alcohol and drugs are not permitted while riding. Our guides have basic first aid training and if a serious injury is suspected they will call for a helicopter search and rescue at the cost of the participant. Personal medical travel insurance is mandatory.
THE NEXT STEPS
Once your online registration form has been received we will send you a confirmation in form of a ticket for the trip followed by detail information.
Please make sure you have read and understand our Terms and Conditions and do not hesitate to get in touch if you have questions.
QUESTIONS?
Feel free to send us an email info@bikecompany.is any time.