THE VOLCANO RIDE


A 3 DAY MTB ADVENTURE AROUND

MT. HEKLA

, ONE OF THE MOST ACTIVE VOLCANOES ON EARTH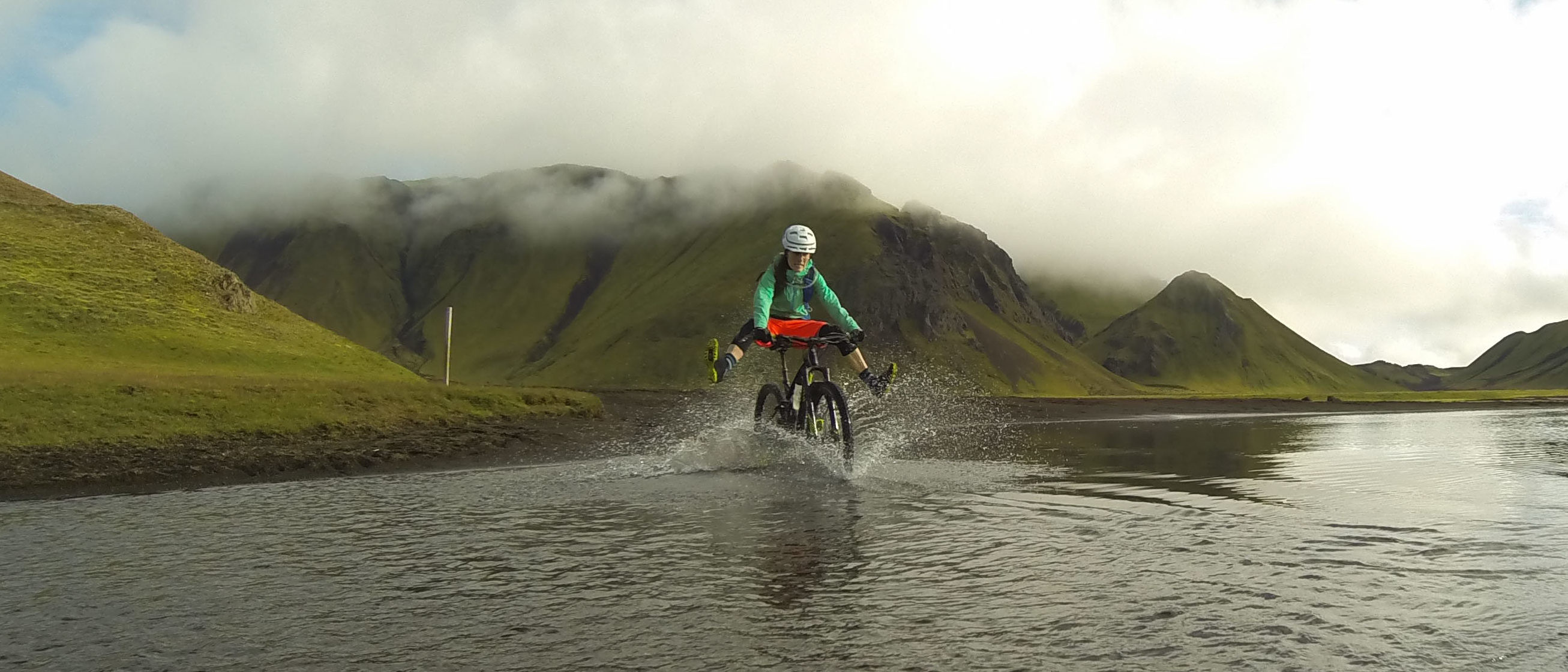 ICELAND WAS CREATED FOR THIS
EXTREME EXPERIENCE


WITH ITS ABUNDANCE OF VOLCANOES, GLACIERS, RIVERS AND ROUGH TERRAIN. IT IS

TRULY

A MOUNTAIN BIKER ENTHUSIASTS

PARADISE!
---
In this tour, we will stay two nights in a charming and comfortable mountain hut situated within a short distance from our favorite mountain roads in the highlands.
D1 – THE HIGHLANDS
Early departure from Reykjavik and about 3 hours drive to the mountains along Iceland's fantastic South Coast. The ride of the day is on one of the most remote mountain road of the highlands which end at our mountain hut where we will stay for two nights.
D2 – HEKLA VOLCANO
Today's ride is on an old mountain road under the looming shadow of the infamous volcano Hekla. This route passes along the edge of a moss-covered lava field and a black volcanic wasteland evoking the sense of being "lost in the wilderness."
D3 – FJALLABAK SOUTH
The last stay starts off on a great highland road that follows the river Ytri-Rangá all the way down to the farmland. The view is magnificent still with Hekla volcano overlooking us on our left. About 2 hours drive back to Reykjavik with arrival in the afternoon.
Truly amazing tour that will leave you with a life long memory of a fantastic adventure!
Biking distance: ~30 – 40 kilometers pr. day.
---
There is always possibility of alterations to the itinerary, here above, as weather or terrain conditions dictate. This is for your own good to improve the trip quality and ensure that we choose the best ride that suits each day.
Included:

Expert local leadership
All transports during the trip and assistance vehicle to carry the luggage
A quality full-suspension mountain bike and a helmet
Accommodation in huts during the tour (sleeping bags in common rooms)
All meals and snacks from lunch on day 1 to lunch on day 3

Not included:

Accommodation and meals in Reykjavik before and after the trip
Trip insurance
Your personal equipment needed to ride
Personal items like drinks, snacks and energy supplements
Optional tipping to guides
Group size: From 2 - 9 participants.
Biking distance: ~30 - 40 kilometers pr. day.
Bike and equipment: For this trip we provide a five or six-inch hardtail mountain bike with disk brakes. If you bring your own bike you are required to have it in excellent working order before the trip begins.
Lodging and food: Accommodations are in remote and authentic lodges located in special remote locations. Rooms at the lodges vary from smaller six-person rooms to rooms that will accommodate the whole group (and sometimes others). The food is hearty and typical of the area. Bike Company supervises the preparation of all meals. However, group member participation is required. Please let us know in advance if you have any dietary considerations.
Level: The volcano ride is rated as challenging for intermediate and experienced bikers used to physically demanding routes.
Fitness level: The adventure level is high on this trip. As you know, the fitter you are the more fun you'll have.
Climate: Iceland can be chilly, even in summer. Expect nights to dip down to below 10°C ( 50°F) and days to warm up to 15-20°C (60-70°F) and warmer. In mountains, weather can change quickly and drastically and rain is common. Participants need to be prepared for a wide range of weather.
Your safety: Our trips take place in remote regions where limited evacuation options are available. Bear in mind, there are always risks and hazards on the trails that we ride. If you choose to participate in our trips, it is up to you to ride well within your limits, to ride conservatively and to be safe as mountain biking is a dangerous sport. Participants must keep their bikes in good working condition; they must be hydrated and rested and alcohol and drugs are not permitted while riding. Our guides have basic first aid training and if a serious injury is suspected they will call for a helicopter search and rescue at the cost of the participant. Personal medical travel insurance is mandatory.
The Next Steps: Once your online registration form has been received we will send you a confirmation in form of a ticket for the trip. Please make sure you have read and understand our Terms and Conditions and do not hesitate to get in touch if you still have questions.
Questons? Feel free to send us an email at info@bikecompany.is if you have any questions.
We can custom-make this tour!
For smaller groups we do quote prices, as well as, for those who prefer to travel in closed groups or have other special requests.
Please contact us for more information via info@bikecompany.is