EPIC

ALL-MOUNTAIN ADVENTURE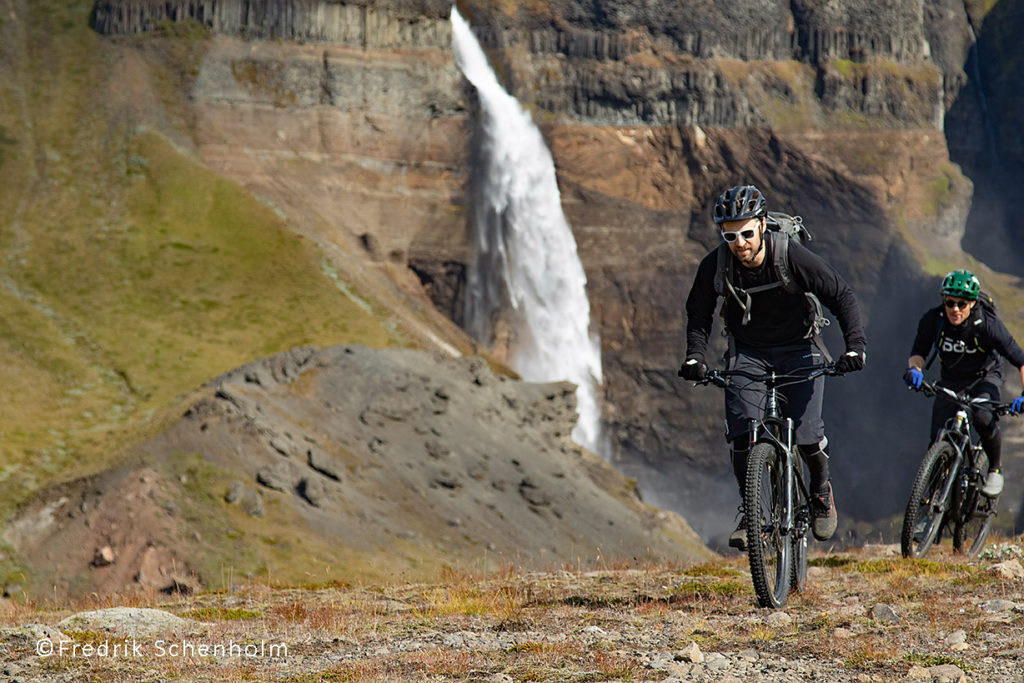 Designed for all single track addicts. Four days packed with flowy, rugged single track trails that will constantly surprise you and amaze you!
TRAIL I
HENGILL VOLCANO MOUNTAIN RANGE
CHALLENGING RIDES THROUGH ICELAND'S MOST POWERFUL AND IMPRESSIVE GEOTHERMAL REGION
We pick you up in the morning at your hotel in Reykjavik. After a quick trip to our local office for a bike fit and the last practical preparation, we begin the tour with about an hour drive to the starting point of the first ride in the area of Hengill, a volcano that last erupted two thousand years ago. The location surrounding the volcano is renowned for its hot springs, natural warm rivers and steaming fumaroles. Awesome and rather challenging single-tracks are waiting for us this day with several short hike-a-bike sections.
Ride: Distance 20 km
Elevation: Gain / loss 470 m
---
TRAIL II
THE BLACK BEACH BEAUTY
MAGICAL TRAILS SURROUNDED BY THE ATLANTIC OCEAN
Vík í Mýrdal is a small village surrounded by the Atlantic Ocean on one side and steep mountains on the other side. From the village we climb up the 300 meters Mt. Reynisfjall followed by an epic single track along the edge of mountain cliffs. The view over the Atlantic Ocean and the black beach of Dyrhólaey and Reynisfjara, including a 66 m high rock pillars that rise out of the sea, is stunning. There is no landmass between this trail and Antarctica! The second part of the ride is to the top of Mt. Hatta and down by fantastic single track all the way to the village again.
The perfect way to end the day is to visit the village thermal pool and experience Iceland's healing energy at the same time. A healthy swim and a soak in the hot Jacuzzi leave you feeling in tune with body and soul.
Ride: Distance 18 km
Elevation: Gain / loss 760 m
---
TRAIL II
ÞÓRSMÖRK,THE MYTHICAL VALLEY
RIDES ON A FOREST TRAILS
Thorsmork is situated in a mythical place with birch trees and ravines surrounded by steep mountains and glaciers. Some awesome and rather challenging single-tracks are waiting for us on this day via deep canyons and through a desert sand. About a three hours drive back to Reykjavík in the afternoon, early enough to enjoy our evening and have a good group dinner in one of the city's restaurants.
Ride: Distance 20 km
Elevation: Gain / loss 850 m
---
TRAIL III
ÞJÓRSÁRDALUR, THE LOCALS FAVORITE
STUNNING SCENERY INCLUDING A CLOSE VIEW OF THE MOST GRACEFUL WATERFALL OF ICELAND
This legendary ride starts from Iceland's second-highest waterfall, Háifoss, which plunges 122 meters off the edge of a plateau and ends in the Gjáin Valley. This is a place full of twisting lava, spectacular waterfalls and otherworldly caves.
About a two hours drive back to Reykjavík after the ride, early enough for you to enjoy your evening and have a good dinner in one of the city's restaurants that leaves nothing to be desired for gourmets.
Ride: Distance 15 km
Elevation: Gain / loss 250 m
---
There is always possibility of alterations to the itinerary, here above, as weather or terrain conditions dictate. This is for your own good to improve the trip quality and ensure that we choose the best ride that suits each day.
Price: 280.000 ISK |Currency Converter
Dates 2023:
23 - 26 May
6 - 9 June
13 -16 June
27 - 30 June
Included:
Expert local leadership
All transports during the trip and assistance vehicle to carry the luggage
Accommodation in glamping for two nights
All meals and snacks from lunch on day 1 to lunch on day 3
Not included:
Accommodation and meals in Reykjavik before and after the trip
A quality dual suspension mountain bike and a helmet (possible for rent)
Trip insurance
Your personal equipment needed to ride
Personal items like drinks, snacks and energy supplements
Optional tipping to guides

---

WE CAN CUSTOM-MAKE THIS TOUR FOR YOU!

For smaller and bigger groups who prefer to travel together we do quote prices with the date and time you choose. Please contact us for more information via info@bikecompany.is
Group size: From 3 - 8 participants.
Biking distance: ~15 - 20 kilometers pr. day.
Bike and equipment: For this epic adventure we provide, Specialized Stumpjumper, all-mountain dual suspension bike with disk brakes. If you bring your own bike you are required to have it in excellent working order before the trip begins. You also need to bring couple of tubes with you and at least one set of brake pads (organic are better here than sintered as they don't overheat) and keep them in your pack along with a spare mech hanger and any other specialist tools or spares specific to your own bike.
Climate: Iceland can be chilly, even in summer. Expect nights to dip down to below 10°C ( 50°F) and days to warm up to 15-20°C (60-70°F) and warmer. In mountains, weather can change quickly and drastically and rain is common. Participants need to be prepared for a wide range of weather.
Level: The technical ability required for this Epic Adventure is rated as challenging for intermediate / advanced riders used to physically demanding routes.
Fitness level: The adventure level is high on this trip. As you know, the fitter you are the more fun you'll have. This trip through remote landscape is strenuous at times.
Your safety: Our trips take place in remote regions where limited evacuation options are available. Bear in mind, there are always risks and hazards on the trails that we ride. If you choose to participate in our trips, it is up to you to ride well within your limits, to ride conservatively and to be safe as mountain biking is a dangerous sport. Participants must keep their bikes in good working condition; they must be hydrated and rested and alcohol and drugs are not permitted while riding. Our guides have basic first aid training and if a serious injury is suspected they will call for a helicopter search and rescue at the cost of the participant. Personal medical travel insurance is mandatory.
Charming Country guesthouse Including in the trip are three nights in a comfortable, country guesthouse with made up bed with private bathroom. At the lodge you have access to a free wifi.
Quality local food In our tours the selection of the accommodation and the meals are equally important as the selection of the trails. The food is hearty and typical of the area. The strength of the Icelandic cuisine lies in its pure ingredients and imaginative use of them. A very copieus breakfast will be served at our lodge. We bring along a delicious energy filled picnic in our backpack for lunch, that we can enjoy whenever needed during the rides. And we dine both evenings in carefully chosen, local restaurants or the guide will be your personal cook. Please let us know in advance if you have any dietary concerns.
The Next Steps: Once your online registration form has been received we will send you a confirmation in form of a ticket for the trip. Please make sure you have read and understand our Terms and Conditions and do not hesitate to get in touch if you still have questions.
Questons? Feel free to send us an email at info@bikecompany.is if you have any questions.