JÖKULSÁRGLJÚFUR
POWER TRACKING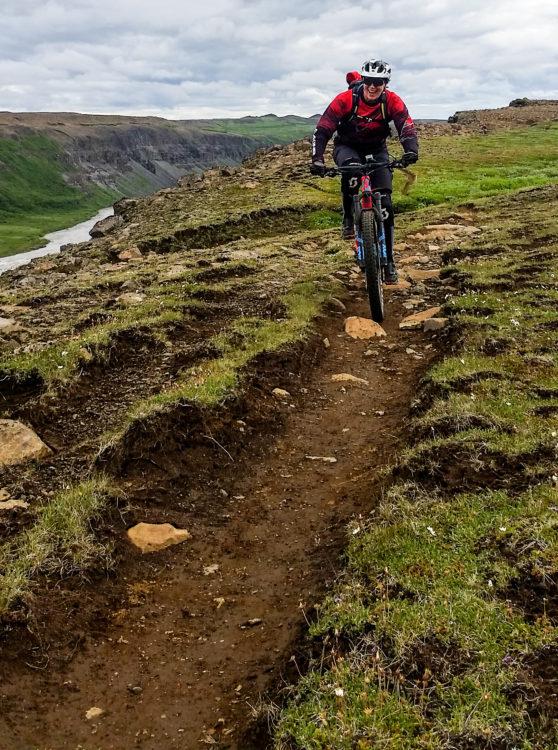 Passing by the biggest waterfall in Europe and the deepest glacial-river-canyon of Iceland
This unique single track adventure follows the edge of the famous
"Jökulsárgljúfur"

placed in the northernmost part of Vatnajökull National Park.

Incredible,

scenery all along the way, no matter where you look.
The first part of the trail is a rocky, technically challenging section on the
edge of the canyon.

Further we bike we´ll get more crooked sheep tracks through some low bushes of arctic birch and an old lava field. On the second part we change out the single track for a gravel road in addition of some old horse trails. More

flowy tracks

waits us again with a very short final stretch on asphalt road.

Truly amazing tour that will leave you with a life long memory of a fantastic adventure!

Keeping our land untouched is our responsible and therefore all riders must STAY ON TRAIL at all times!
---
JÖKULSÁRGLJÚFUR AND ÁSBYRGI
Literally transcribed as Glacial-River-Canyon, Jökulsárgljúfur, is the deepest and most breathtaking canyons in Iceland. 25 km long, 500 meters wide and up to 120 meters deep. With separate boundaries, but geographically connected to the rest of the park by the glacial river Jökulsá á Fjöllum.
Ásbyrgi is one of Iceland's natural pearl and is found in the northern end of the canyon. It is a horseshoe-shaped garden surrounded by steep cliffs up to 100 meters high. Most likely formed by catastrophic glacial flooding of the river Jökulsá á Fjöllum after the last Ice Age, first 8-10,000 years ago, but we like to keep the legendary explanation that said it was formed when Odin's eight-legged horse, Sleipnir, touched one of its feet to the ground here.
Meeting point: Húsavik village in the north-east of Iceland at 9 AM. It starts by a short shuttle by a 4x4 jeep to the waterfall of Dettifoss. The jeep will pick us up two times during the tour in order to get the most out of it.
Group size: From 3 – 6 participants
Biking distance: 30 - 40 km
Duration: ~ 12 hours +
Activity level: For expert riders only. Note that we can tailor made it for any level for beginner and intermediate riders.
Fitness level: As you know, the fitter you are the more fun you'll have. Flexible itineraries take account of fitness, weather and participants' wishes. Keep in mind that in Iceland the weather can change quickly and wind, snow and rain is common all year around.
---
WE CAN CUSTOM-MAKE THIS TOUR FOR YOU! For smaller and bigger groups who prefer to travel together we do quote prices with the date and time you choose. Please contact us for more information via info@bikecompany.is
Price: 50,000 ISK pr. person for a group of minimum 3 riders.
Included in this tour:
All transports during the trip
Expert local English speaking guide and biker
Top quality full suspension bike and helmet
Not included in this tour:
Picnic lunch, snack and water
Your personal equipment needed to ride
Your personal equipment Bring a small backpack, warm clothing, winter gear, good outdoor shoes and warm gloves. You need to be prepared for a wide range of weather. Expect the temperature to dip down to below 10°C (below 50°F) and to warm up to 15-20°C (60-70°F). 
Your Safety: This trip take place in the countryside of Iceland. If you choose to participate in our tours it is up to you to ride well within your limits and be mindful of your own safety and your actions that may affect the safety of the group. Participants must make sure to stay hydrated, nourished and rested. Any alcohol or drug consumption is prohibited during our rides. Our guides have first aid training but if a serious injury occurs they will call local Search and Rescue services at the cost of the participant. Personal medical travel insurance is mandatory.
Bike Company reserves the right to make alterations and substitutions to the itinerary as weather or terrain conditions dictate or as necessary to improve the trip quality or to accommodate the comfort, convenience, and well-being of our clients.
The Next Steps: Once your online registration form has been received we will send you a confirmation in form of a ticket for the trip. Please make sure you have read and understand our Terms and Conditions and do not hesitate to get in touch if you still have questions.
Operation: This tour is organised in collaboration with MTB HÚSAVÍK.
Questions? Feel free to send us an email at info@bikecompany.is if you have any questions.