FJORD HOPPING

IN THE WESTFJORDS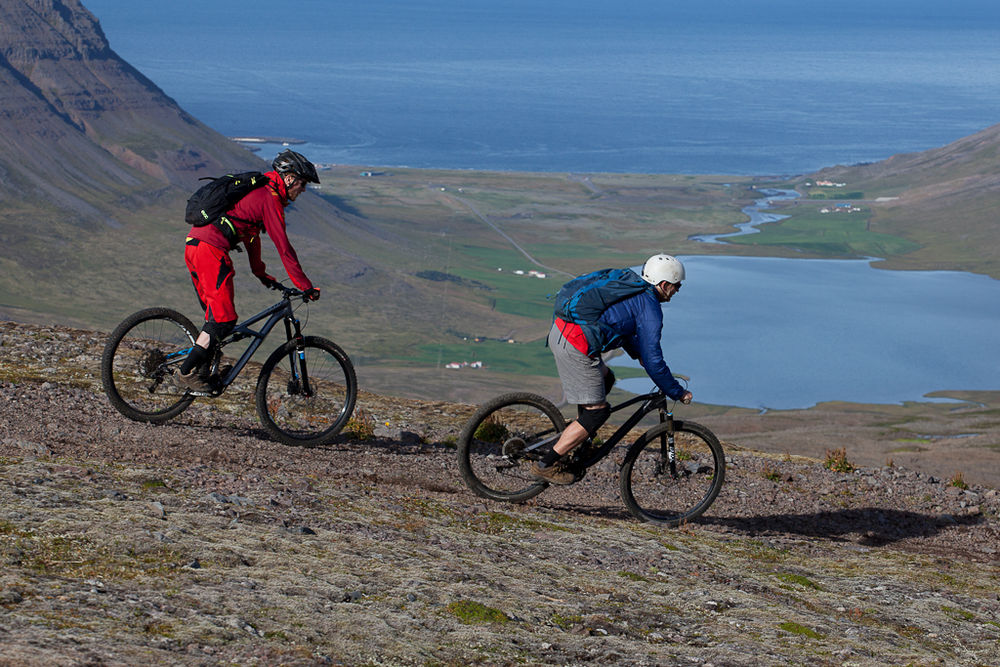 Single track day tour between the mountains and the ocean
An
exciting

mountain biking traverse with a mix of everything.
There are short uphill sections where we warm up our legs and long

flowing downhill

sections where you can test your skills.

The views along this route are simply stunning.
We can see down the fjords and across to Hornstrandir Nature Reserve on a clear day.
This beautiful route is perfect for those who are in good shape and are used to challenging rides.
---
We begin by driving up to the plateau of Breiðadals and Botnsheiði. The view across the fjords is pretty dramatic from up there. We start the biking with a short downhill towards Súgandafjörður Fjord.
We then hit a winding track which leads up to the top of the mountain ridge. From the ridge, a panoramic view over the whole fjord system opens up. We'll take a break to enjoy our delicious lunch. We continue biking on a nice track across the high plateau before we start descending into Syðridalur valley.
The track is pretty smooth going down and you can go as fast as you dare! Next stop is by the hydropower station in Syðrdalur valley, which is a good example of how to harness the power of nature in a sustainable way! A smooth ride along a nice lake and the old road of Óshlíð is a good end to a challenging day, and a good vantage point where the dramatic power of nature is clearly visible. The last stretch is on a tarmac bike path to Ísafjörður.
Meeting point: Is at our base at Mávagarður C (grey building) close to the Eastern Harbour. The start of the tour is at 10:00 a.m.
Departure: Departures every Monday, Wednesday, Friday and Sunday from June to September 2020.
Group size: From 2 – 6 participants.
Duration: ~ 6 hours with a distance around 32km and a elevation gain around 350-400m.
Included in this tour:
Expert local English speaking guide and biker
Top quality mountain bike and helmet
The transportation during the tour
Activity level: Is rated as challenging for intermediate and good mountain biker. This is a long day with challenging downhill sections and steep uphill sections. You will have to be used to biking off road and be in good physical shape for this tour. You don't have to be an expert biker though!
Fitness level: As you know, the fitter you are the more fun you'll have. Keep in mind that Iceland can be chilly, even in summer. The weather can change quickly and wind and rain is common.
---
WE CAN CUSTOM-MAKE THIS TOUR FOR YOU!
For smaller and bigger groups who prefer to travel together we do quote prices with the date and time you choose. Please contact us for more information via
info@bikecompany.is
Your personal equipment Please avoid cotton as it keeps you cold when wet and takes a very long time to dry.
Warm woollen or fleece clothing including top, bottoms and socks
Sturdy shoes (no flip flops)
Sunglasses and sunscreen
Water bottle
Don't forget your camera!
You need to be prepared for a wide range of weather. Expect the temperature to dip down to below 10°C (below 50°F) and to warm up to 15-20°C (60-70°F).
Your Safety: This trip take place in the countryside of Iceland. If you choose to participate in our tours it is up to you to ride well within your limits and be mindful of your own safety and your actions that may affect the safety of the group. Participants must make sure to stay hydrated, nourished and rested. Any alcohol or drug consumption is prohibited during our rides. Our guides have first aid training but if a serious injury occurs they will call local Search and Rescue services at the cost of the participant. Personal medical travel insurance is mandatory.
Bike Company reserves the right to make alterations and substitutions to the itinerary as weather or terrain conditions dictate or as necessary to improve the trip quality or to accommodate the comfort, convenience, and well-being of our clients.
The Next Steps: Once your online registration form has been received we will send you a confirmation in form of a ticket for the trip. Please make sure you have read and understand our Terms and Conditions and do not hesitate to get in touch if you still have questions.
Operation: This tour is organised in collaboration with BOREA ADVENTURE IN ISAFJÖRDUR CITY. Here you can see your options on how to travel to our beautiful town: How do I get to Ísafjörður?
Questions? Feel free to send us an email at iinfo@bikecompany.is if you have any questions.