SINGLE TRACK EXTREME:

OUR MOST INTENSE TRIP!
---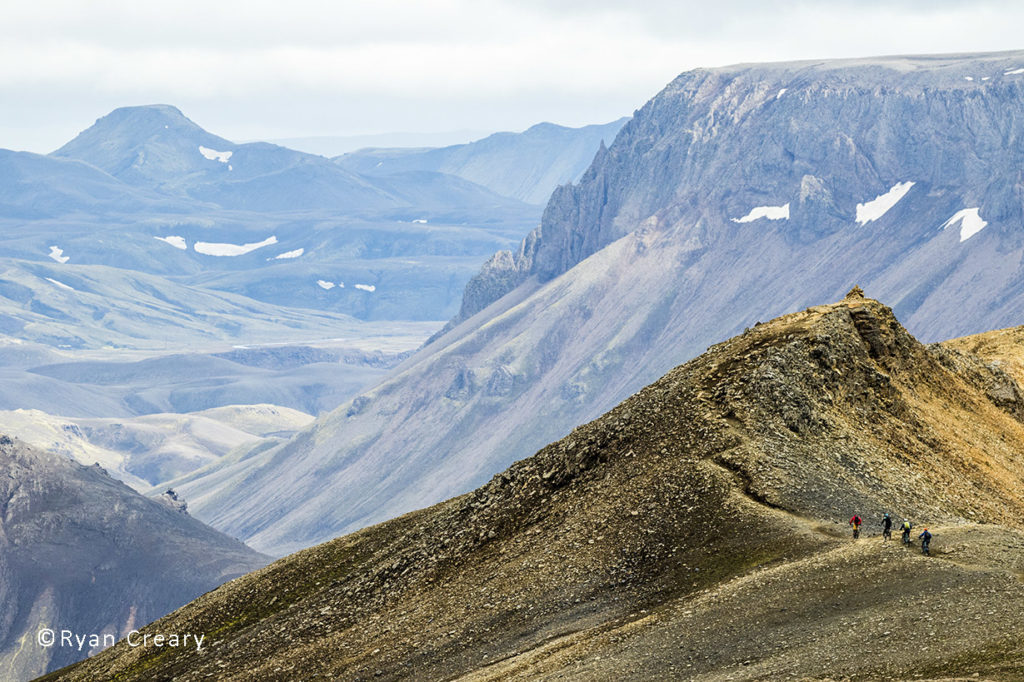 A TRUE ADVENTURE FOR EXPERIENCED MOUNTAIN BIKERS THAT WILL PUSH YOU TO THE LIMITS! 
DAY 1
THE HENGILL VOLCANO
You will be picked up from your hotel at 11 AM ore we meet at our office. Then we hit the road for about 1 hour drive to Reykjadalur Valley in Hellisheiði Mountain Range, the starting point of a classic single-track ride through one of Iceland's most powerful and impressive geothermal regions. After the ride, a 2 hours' drive along the south coast, into the highlands by a road that pass at the edge of a moss-covered lava fields and a black volcanic wasteland. Tonight, we bed down in a remote cabin where we will spend the next three nights.
Ride: Distance 10 km
Elevation: Gain 220 m / loss -550 m
---
DAY 2
THE VOLCANO DESERT
Our second day ride is a fantastic introduction to what to expect for the week; a short distance but challenging climb that's rewarded by a long and flowing single-track descent that ends right in front of our hut.
Ride: Distance 20 km
Elevation: Gain 680 m / loss -680 m
---
DAY 3
THE HIGHLANDS OASIS
The stunning area of Landmannalaugar, famous for its palette of pastel colored mountains. And the home of the most epic single tracks trails in Iceland. The word "undulant" is probably the best one to explain what characterize the rides here. We will have multiple 100 – 300m climbs and some shorts hike-a-bike sections during the day, always followed by a rewarding descents. In addition we will end the day with a soak in a warm natural pool.
Ride: Distance 42 km
Elevation: Gain 770 m / loss -770 m
---
DAY 4
MOUNTAIN CROSSING
We start our day with a very steep climb up "Pokahryggur" a double track, aptly named by the local farmers. They used to put sand filled bags under the tires of their jeeps in order to make it up the road. While it may be challenging you will be rewarded with a great descent down a remote mountain road through a landscape filled with impressive natural hot springs. We will trek in between valleys crossing a few cold rivers before reaching the comfort of our mountain hut.
Ride: Distance 45 km
Elevation: Gain 790 m / loss -800 m
---
DAY 5
THE BIG GREEN MOUNTAIN
We ride past Torfahlaup Canyon where we find our way on a remote and breathtaking trail. Shredding around all day as we make our way to a remote and beautiful double-track that leads to the single-track of the Laugavegur route. Our mountain hut is situated by the edge of the deep canyon of Markafljotsgljufur. For our last night together in the mountains, we indulge ourselves with a traditionally dressed whole leg of lamb that will tickle the culinary delights of any gourmet aficionado.
Ride: Distance 38 km
Elevation: Gain 600 m / loss -740 m
---
DAY 6
RIDE THROUGH A FOREST
Thorsmork is situated in a mythical place with birch trees and ravines surrounded by steep mountains and glaciers. Some awesome and rather challenging single-tracks are waiting for us on this day via deep canyons and through a desert sand. About a three hours drive back to Reykjavík in the afternoon, early enough to enjoy our evening and have a good group dinner in one of the city's restaurants.
Ride: Distance 34 km
Elevation: Gain 825 m / loss -1060 m
---
Price: 365.000 ISK |Currency Converter
Dates 2023:
16 - 21 July
23 - 28 July -

FULLY BOOKED
30 July - 4 August -

FULLY BOOKED
6 - 11 August -

FULLY BOOKED
13 - 18 August
20 - 25 August
27 August - 1 September -

FULLY BOOKED
3 - 8 September
Included:
Expert local leadership
All transports during the trip and assistance vehicle to carry the luggage
Accommodation in huts during the tour (sleeping bags in common rooms)
All meals and snacks from lunch on day 1 to lunch on day 6
Not included:
Accommodation and meals in Reykjavik before and after the trip
Trip insurance
Your mountain bike and related equipment needed to ride
Personal items like drinks, snacks and energy supplements
Optional tipping to guides
Small group supplement for less than 5 participants

---

WE CAN CUSTOM-MAKE THIS TOUR FOR YOU!

For smaller and bigger groups who prefer to travel together we do quote prices with the date and time you choose. Please contact us for more information via info@bikecompany.is
Group size: From 5 - 8 participants.
Biking distance: ~25 - 45 kilometers pr. day.
Bike and equipment: The perfect bike for this trip is a five or six-inch all-mountain dual suspension bike with disk brakes. All participants are required to have their bikes in excellent working order before the trip begins.
Rent a bike: We have high quality Specialized StumpJumper 29" bikes available for rent. Price 60,000 ISK for the week. We strongly recommend, though, that participants bring their own bikes if possible.
Lodging and food: The mountain huts are in remote and authentic lodges located in special remote locations. The group stays together in the same section with shared bathrooms, including running water, restroom facilities and showers. The rooms vary from smaller six-person rooms to rooms that will accommodate the whole group (and sometimes others). You need to bring your own towels and sleeping bag. The food is hearty and typical of the area. Bike Company supervises the preparation of all meals. Please let us know in advance if you have any dietary considerations.
Climate: Iceland can be chilly, even in summer. Expect nights to dip down to below 10°C (below 50°F) and days to warm up to 15-20°C (60-70°F) and warmer. In mountains, weather can change quickly and drastically and rain is common. Participants need to be prepared for a wide range of weather.
Technical level: This trip is rated as challenging for expert bikers used to physically demanding routes.
Fitness level: There are a few long hike-a-bike sections and riders can expect 4+ hours in the saddle daily. As you know, the fitter you are the more fun you'll have. This trip is demanding, taking you at times into a remote landscape.
Your safety: Our trips take place in remote regions where limited evacuation options are available. Bear in mind, there are always risks and hazards on the trails that we ride. If you choose to participate in our trips, it is up to you to ride well within your limits, to ride conservatively and to be safe as mountain biking is a dangerous sport. Participants must keep their bikes in good working condition; they must be hydrated and rested and alcohol and drugs are not permitted while riding. Our guides have basic first aid training and if a serious injury is suspected they will call for a helicopter search and rescue at the cost of the participant. Personal medical travel insurance is mandatory.
The Next Steps: Once your online registration form has been received we will send you a confirmation in form of a ticket for the trip. Please make sure you have read and understand our Terms and Conditions and do not hesitate to get in touch if you have any further questions.
Questions? Feel free to send us an email at info@bikecompany.is if you have any questions.
MAP AND THE RIDES PROFILE
The itinerary is subject to change due to changes in weather or terrain conditions. This is for your own good to improve the trip quality and ensure that we choose the best ride that suits each day.
---
---