SAILBOAT MTB ADVENTURE


A 6 DAY MTB ADVENTURE IN THE REMOTE MOUNTAINS OF THE WEST-FJORDS OF ICELAND WITH

ONLY ONE UNIQUE DEPARTURE IN 2018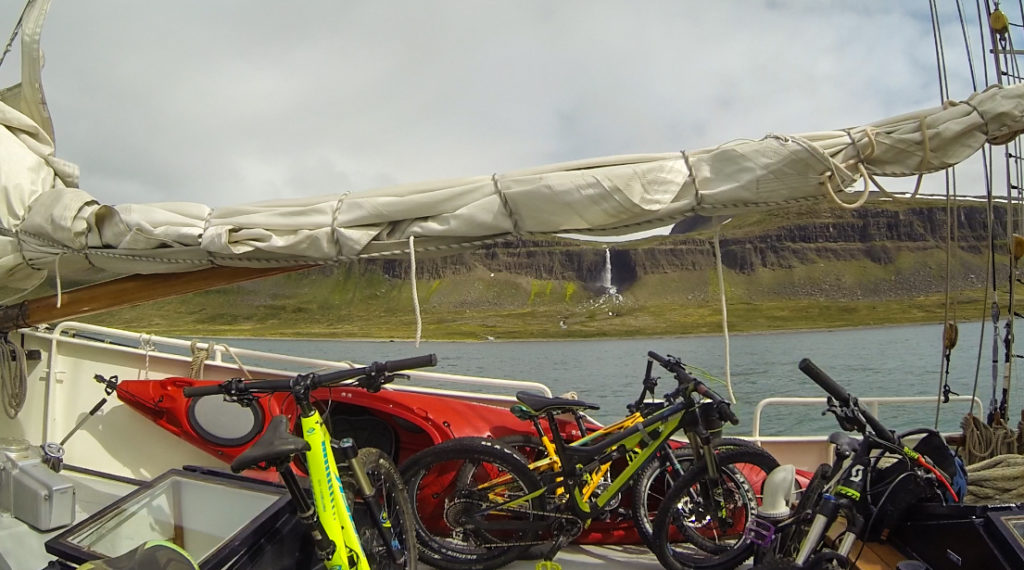 In June 2017, we shared our first experience of this trip with an amazing group of riders who dared to venture pretty far outside their comfort zone in a true explorer spirit. We found out that this remote region of the West-Fjords of Iceland is packed with unexpected epic trails and tons of potential that we look forward to discover with our next awesome group of riders!
The nature reserve of Hornstrandir is one of the country's most exceptional areas that offer endless outdoor pursuits in it's remote mountains, sheltered fjords and bays. It is virtually inaccessible with no roads that lead to it —the only way to venture there is by boat. Due to its remote location, it is very possible to stay there for days without meeting a single soul. Doing so, you will discover the essence of remote Iceland. The fjords are deep and dramatic, where marine and aviary life abounds. There is an abundance of silence and unexplored landscapes for the curious and adventurous explorer. The Expedition sailboat, Aurora, is our movable backcountry hut and awaits us every day with gourmet meals, warm and comfortable bunks and friendly conversation.
Day 1, July 9 – FLIGHT TO ISAFJORDUR
Meet with your local bike guide at the Reykjavik Airport for a flight to Isafjördur around 6.30 PM. If you came to Iceland earlier or the same day we can keep your luggage at our office and bring it to the airport for you. We meet the local boat crew at our arrival to Ísafjörður village and as soon as we are installed on the expedition sailboat Aurora that will be our home for the next 6 days, we leave the harbor and sail across the fjord to Snæfjallaströnd.
Day 2, July 10 – Snæfjallaströnd
We start our trip with a climb up the valley of Unadsdalur at Snæfjallaströnd on an old post route, crossing the mountains down to the fjord of Leirufjordur rejoining our sailboat Aurora where she will be anchored off.
Day 3, July 11 – GRUNNAVIK
Today we we venture on one of the most remoted trail in Iceland, from Höfðaströnd to Grunnavík a beautiful bay that has been inhabited since 1962. We ride along the seashore between the steep mountains and the Atlantic Ocean. Later in the afternoon we sail over to the fjord of Hesteyri.
Day 4 & 5, July 12 & 13 – HESTEYRI
Keep your eyes open for the diverse bird life, seals and the arctic foxes. There are several options for a great biking trail those two days and most likely we ride over to the bay of Aðalvík. From there we take an old road toward the bay of Rekavík for the second climb of the day and up the mountain of Straumnes which leads us to a great downhill back to the boat at the bay of Latrar.
Day 6, July 14 – ADALVIK
We will have a morning bike tour before sailing back to Ísafjörður, with arrival around 16:00 in the afternoon. You can catch the last flight to Reykjavik that night or stay at least one night to relax and get to know this old and beautiful town.
Day 7, July 15 – ENDURO FESTIVAL AT ISAFJÖRDUR (optional)
You are more than welcome to stay an extra day and join the Icelandic Enduro summer festival that take place in Isafjördur area on July 15th this year.
For more information: http://www.enduroiceland.com/english.html
Even though we may not be far from "home," this is still true exploration and the final itinerary will only be decided upon when we leave Ísafjörður harbour. This is the most likely itinerary, but we will take into account weather and always look for the best possible option.
Bike Company reserves the right to make alterations and substitutions to the itinerary as weather or terrain conditions dictate or as necessary to improve the trip quality or to accommodate the comfort, convenience, and well-being of our clients.
Group size: From 5 - 8 participants.
Included:
Airfare and taxes to and from Reykjavik to Isafjördur
Pickup and drop off at the airport in Isafjördur
Expert local leadership
Services of a captain and crew
All meals and snacks from lunch on day 1 to lunch on day 6
Use of sea kayaks (optional, please enquire)
Use of stand up paddle boards
Not included:
Airfare and taxes to and from Keflavik Airport in Iceland
Accommodation and meals in Reykjavik before and after the trip
Accommodation, meals and extra cost for the Enduro festival in Isafjordur on day 7
Trip insurance
Your mountain bike and related equipment needed to ride
Personal items like drinks, snacks and energy supplements
Optional tipping to guides
Technical level: This unique adventure is rated for moderate for intermediate/advanced mountain bikers, used to physically demanding routes.
Fitness level: The adventure level is high on this trip. As you know, the fitter you are the more fun you'll have.
Health: All travellers need to be in good physical health in order to participate fully in the group travel experience. If, in the opinion of our group leader, any traveller is unable to complete the itinerary without undue risk to themselves and/or the rest of the group, Aurora-Arktika reserves the right to exclude them from all or part of a trip without refund. We therefore ask that you read the itinerary in these trip notes thoroughly and then realistically self-assess your physical ability to complete the trip as described. Please consult with your doctor if you have any doubts.
Responsible travel: We believe strongly in low impact or rather positive impact tourism. Broadly speaking this means that we try to minimize the negative aspects of tourism on the local cultures and environments that we visit and highlight the positive aspects.
The bike: The perfect bike for this trip is a five or six-inch all-mountain dual suspension bike with disk brakes. It is required to have it in excellent working order before the trip begins.
Food: We take great pride in the food we serve on board Arktika and use local produce and ingredients as much as we can. Local fish and lamb are common dinners and often berries and rhubarb pies for desserts. We can cater for vegetarians and guests with dietary restrictions. Please let us know in advance. It is a good idea to take some of your own dietary substitutes if you have a specialist diet.
Climate: Iceland can be chilly, even in summer. Expect nights to dip down to below 10°C (below 50°F) and days to warm up to 15-20°C (60-70°F) and warmer. In mountains, weather can change quickly and drastically and rain is common. Participants should be prepared to ride in challenging weather conditions like cool, rainy, windy days.
Sailing Yacht Aurora: The yacht is a 60-foot sloop built by Colvic Craft in the UK in 1996. She was designed by David Pedrick for the Clipper Round the World Race and has been raced around the world four times. Aurora's previous owner, Clipper Ventures Plc (based in Gosport, UK), was founded by the legendary sailor, Sir Robin Knox-Johnston, who in 1969 became the first person to singlehandedly sail around the world non-stop. Sir Robin was in Ísafjör›ur and on the yacht (then named Antiope Clipper) in the summer of 2005, together with Sir Chris Bonington and other friends, en route to Greenland. Over some chicken curry and beer on-board, we decided to fulfill an old dream and buy the yacht! Accommodation is seamanlike—simple and utilitarian—but the vessel is very sturdy and spacious. There are ten single berths, one of which can be turned into a double. Sleeping bags are required for this expedition. The yacht has good heaters, hot and cold water, good galley and spacious communal areas, two heads (toilets) and one shower. There is 220V electricity to charge batteries and other electronic devices. The vessel was initially fitted out for 15 crew, but can now accommodate 12 people—2 crew and 10 guests. The boat is equipped according to strict Icelandic regulations in regards to emergency equipment.
Communication: There is good mobile phone coverage and Internet service in Ísafjörður. Mobile coverage is not good where we travel, though most days there is reception on the mountaintops! On board, Arktika will have a satellite phone that can be used for urgent calls or emails.
Sea sickness: We only sail short distances during this trip, and seasickness has not proven to be problematic. Still, it´s a good idea to bring medication if you know you are prone to seasickness or you think it will be helpful.
Issues on your trip: While we always endeavor to provide the best possible holiday experience, due to the nature of travel and the areas we visit sometimes things can and do go wrong. Should any issue occur while you are on your trip it is imperative that you discuss this with your group leader or the captain straight away so that they can do their best to rectify the problem and mitigate any potential negative impacts during the rest of your trip.
The Next Steps: Once your online registration form has been received we will send you a confirmation in form of a ticket for the trip. Please make sure you have read and understand our Terms and Conditions and do not hesitate to get in touch if you still have questions.
Questions? Feel free to send us an email at info@bikecompany.is if you have any questions.