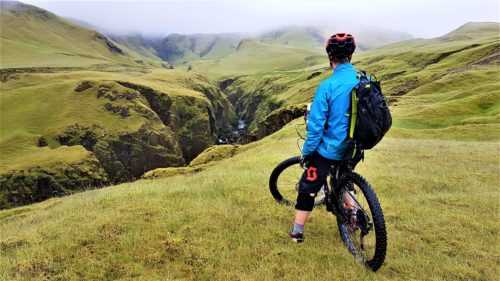 CHASING
MOSSY CANYONS


SINGLE TRACK DAY TOUR

A true enduro trail, formed by the Icelandic sheep, surrounded by spectacular canyons, moss and epic nature.

The first part is a moderate uphill section following both single track (sheep tracks), and the

open wild nature.


The variety of technical and

sweet flowy single tracks,

surrounded by

friendly mossy landscape

makes this tour perfect for both intermediate and advanced riders.


We are responsible for keeping our land untouched and therefore all riders must STAY ON TRAIL at all times!
Meeting point: Iceland Bike Farm, Mörtunga 2, 880 Kirkjubæjarklaustur at 9AM.
Group size: From 2 – 6 participants
Biking distance: 15 - 25 km
Duration: ~ 4 hours +
Included in this tour:
Expert local English speaking guide and biker
Top quality full suspension bike and helmet
Super jeep shuttle
Activity level: For intermediate /advanced rider. Suitable for most active people with good skills of biking.
Fitness level: As you know, the fitter you are the more fun you'll have. Keep in mind that Iceland can be chilly, even in summer. The weather can change quickly and wind and rain is common.
---
WE CAN CUSTOM-MAKE THIS TOUR FOR YOU! For smaller and bigger groups who prefer to travel together we do quote prices with the date and time you choose. Please contact us for more information via info@bikecompany.is
Your personal equipment: Bring a small backpack, warm clothing, winter gear, good outdoor shoes and warm gloves. You need to be prepared for a wide range of weather. Expect the temperature to dip down to below 10°C (below 50°F) and to warm up to 15-20°C (60-70°F). 
Your Safety: This trip take place in the countryside of Iceland. If you choose to participate in our tours it is up to you to ride well within your limits and be mindful of your own safety and your actions that may affect the safety of the group. Participants must make sure to stay hydrated, nourished and rested. Any alcohol or drug consumption is prohibited during our rides. Our guides have first aid training but if a serious injury occurs they will call local Search and Rescue services at the cost of the participant. Personal medical travel insurance is mandatory.
Bike Company reserves the right to make alterations and substitutions to the itinerary as weather or terrain conditions dictate or as necessary to improve the trip quality or to accommodate the comfort, convenience, and well-being of our clients.
The Next Steps: Once your online registration form has been received we will send you a confirmation in form of a ticket for the trip. Please make sure you have read and understand our Terms and Conditions and do not hesitate to get in touch if you still have questions.
Operation: This tour is organised in collaboration with ICELAND BIKE FARM.
Questions? Feel free to send us an email at info@bikecompany.is if you have any questions.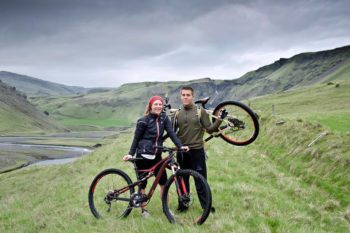 MUMMI AND RANNVEIG -THE GUIDES
This is the people behind the charming little farm that have the biggest wild track bike field in Iceland in their backyard.
Mummi is a passionate biker and a certified adventure guide and Rannveig is a biologist born and raised on the farm.
They are simply honest, solid, and true modern day farmers who deliver unique adventures based on unconditional love for their land, culture and of course mountain biking.