FAT BIKE EXPERIENCE: A CHALLENGING LUNAR LANDSCAPE RIDE


GET AWAY FROM IT ALL! TAKE A GPS-GUIDED FAT BIKE RIDE THROUGH OTHER WORDLY TERRAIN.
Hop into our super jeep for a shuttle to the trailhead, then hop out of bounds for some challenging backcountry fat bike experience. The GPS will take you on a 4 hour journey through the black sands and bizarre rock formations of a unique lunar landscape. Our super jeep brings you home again.
——————————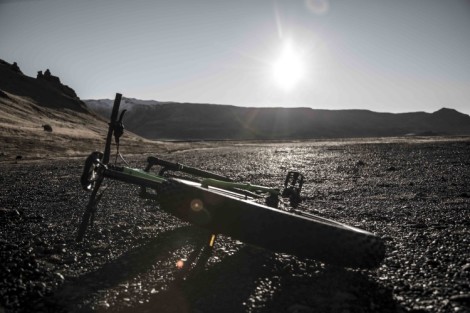 Meeting point: A pick up is provided in the greater Reykjavik area.
Operation: This tour is organised in collaboration with ICEBIKE ADVENTURES.
Group size: From 2 – 6 participants.
Duration: ~ 4+ hours.
Activity Level: Is rated as challenging for intermediate and advanced biker.
Fitness level: As you know, the fitter you are the more fun you'll have.
Price: 35,000 ISK pr. person.
Included in this tour:
Bike guide and super jeep transfer
Pick up and drop off anywhere in Reykjavík
Rental of quality carbon Salsa Beargrease fatbike with the Icelandic Lauf fork and helmet
Bottle of water
Your personal equipment We provides bike & helmet. We provide flat pedals but we are happy to change pedals if you bring your own. Bring a small backpack, warm clothing, winter gear, good outdoor shoes and warm gloves. You need to be prepared for a wide range of weather. Expect the temperature to dip down to below 10°C (below 50°F) and to warm up to 15-20°C (60-70°F).
Your Safety: This trip take place in the countryside of Iceland. If you choose to participate in our tours it is up to you to ride well within your limits and be mindful of your own safety and your actions that may affect the safety of the group. Participants must make sure to stay hydrated, nourished and rested. Any alcohol or drug consumption is prohibited during our rides. Our guides have first aid training but if a serious injury occurs they will call local Search and Rescue services at the cost of the participant. Personal medical travel insurance is mandatory.
Bike Company reserves the right to make alterations and substitutions to the itinerary as weather or terrain conditions dictate or as necessary to improve the trip quality or to accommodate the comfort, convenience, and well-being of our clients.
The Next Steps: Once your online registration form has been received we will send you a confirmation in form of a ticket for the trip. Please make sure you have read and understand our Terms and Conditions and do not hesitate to get in touch if you still have questions.
The waiver: All riders need to sign a waiver before riding with us.
Private tour: Are you looking for a unique trip with a unique date? Please don't hesitate to contact us by email here. 
Questions? Feel free to send us an email at info@bikecompany.is if you have any questions.